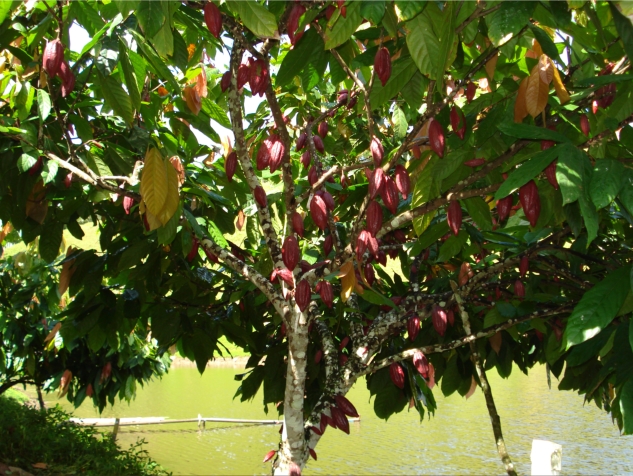 Cantagalo Farms: A History
In 1960, Angelo Calmon de Sá, our founder, began his activities as a farmer, acquiring a property known as Ondulada in the Municipality of Ituberá (southern Bahia), with approximately 1000 hectares. Most of its area was covered by Atlantic Forest and stil remains so preserved by us until today. In another segment of the property, with an area of approximately 350 hectares, there was a forest in regeneration that had had all its wood extracted . Within the area there were several small cocoa plantations, mostly those situated in valleys.
Angelo decided, then, to plant heveas (at the time the State Government was interested in enlarging the production of natural rubber in Bahia) and also cocoa of the 'catongo' variety, first identified by Sosthenes Miranda and which promised to be extremely productive. Theses were the first steps of our founder in the planting of cocoa.
Seven years later with basis on the experience acquired in the cocoa cultivation in Fazenda Ondulada, Angelo acquired Cantagalo Farm, in the Municipality of Itacaré - Bahia where it was begun a small production of common cocoa (forasteiro), about 200 arrobas in an area of approx. 25 hectares.
Afterwards, Angelo started to enlarge the plantations in Cantagalo Farm much in the same way as he had done in Ituberá, using hybrid cocoa seeds supplied by CEPLAC (Executive Comission of the Plan for the Farming of Cocoa) while following the technical orientations supplied by CEPLAC at that time.
In 1972 Angelo increase his interest for cocoa farming and acquired 'Fazenda Lutadora' (January 1972) in the Municipality of Lomanto Junior-Bahia and Boa Sentença Farm (in June 1972) in the Municipality of Itabuna (Bahia). These two farms had at the time a production of 1000 and 6000 'arrobas' respectively.
Aiming at making even more professional the activity of cocoa plantation Angelo constituted in 1973 the Agricultural Cantagalo Limited, the name in allusion to his first farm in the cocoa cultivation region. Its first Director was the late Dr. Antonio Guilherme Santana Chagas who greatly contributed to the growth of the enterprise, today comprised of 15 farms in the municipality of the cocoa plantation region of Bahia. In 1976, 'Fazenda Ondulada' and all the other farms in Ituberá were incorporated into Agricultural Cantagalo Ltda.
Affection and loyalty of the employees
Angelo has always conquered the affection and loyalty of his employees not only by incentives and rewards for their dedication and productivity but also by his concern for the well being and safety of the workers. We distinguish here some of our earliest collaborators: Misael, Osmundo, Raimundo, D. Maria, Teodoro, Helena, Edinho, Zelito, Tomé, Elza, Aguimael and Jair, the last two cited being nowadadys Directors responsible for the success of Cantagalo Technology.